Toshiba e-STUDIO2007 Printer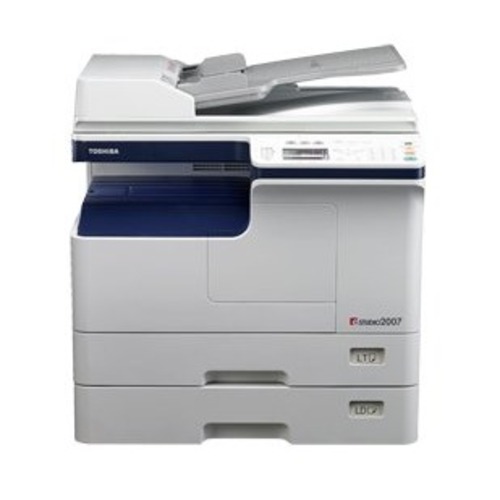 Quality
Toshiba's e-STUDIO range has long been relied upon by office's that do not want to accept second best when it comes to document handling but don't want to tear their budgets in two either. These affordable, muscular, flexible models come packed with the tools and features required to tackle even the heaviest workload with true style and panache. The latest addition is the e-STUDIO 2007, a sleek, compact model perfect for a small or medium sized office. It prints, scans and copies with remarkably tenacity, while the durable design means a long, stress-free ownership across its lifetime.
Few offices have the time for slow hardware. Toshiba understands this and that's why every MFD that rolls out of its factories wastes no time in getting the job done. With 20 pages per minute A4 speed and a snap-quick 20 second warm up time, the Toshiba 2007 will never leave you hanging when it's time to get down to business. The results are sharp too, with a maximum 2,400 x 600 dots per inch resolution ensuring a consistent flow of smart looking documents.
You can count on American Servco Imaging Systems for all of your toshiba Printer, Copier, and Fax machine needs! Call us today at 1-800-870-9049!