Sharp MX4140N | MX4141N | MX5140N | MX5141N Copiers and MFC Devices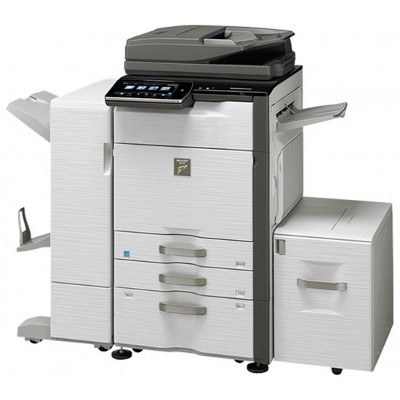 Sharp MX4140N | MX4141N | MX5140N | MX5141N Features
Large 10.1″ (diagonally measured) high resolution touch-screen display
Fully customizable home screen feature enables users to add custom backgrounds
2,000-sheet tandem paper drawer option
Compact PDF feature dramatically reduces the file size of scanned color documents
Full-size, retractable keyboard allows quick, easy and accurate data entry
1200 x 1200 dpi printing provides clear, crisp images
Standard Wireless LAN connects to your network
Read more about all of the excellent features the Sharp MX4140N | MX4141N | MX5140N | MX5141N line has to offer by clicking here. If the brochure does not automatically download, try the following: Right Click on the Link -> Select Save Link or Save Target as (exact verbiage may be different on your browser) -> Select your destination and save.
Quality
Sharp's new MX-4140N/4141N/5140N/5141N color series document systems combine the simplicity of touch-screen menu navigation with robust multi-tasking workflow features that can help virtually any office accomplish more in less time. A large 10.1" (diagonally measured) high-resolution, tilting touch-screen display offers groundbreaking real-time image preview with intuitive flick-and-tap editing to help ensure your documents are produced accurately and without waste.
Read more in the brochure here: MX4140N | MX4141N | MX5140N | MX5141N Brochure
You can count on American Servco Imaging Systems for all of your Sharp Printer, Copier, and Fax machine needs! Call us today at 1-800-870-9049!