Ricoh Aficiompc2551 Printer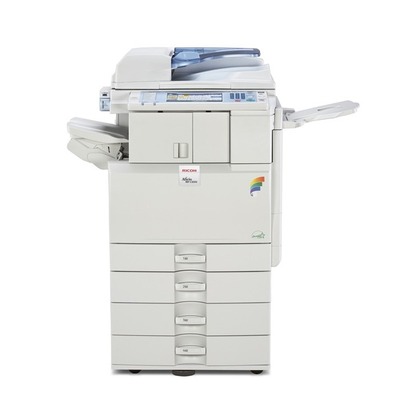 Ricoh Aficiompc2551 Features
Internal Shift-Sort Tray (optional)
500-Sheet Internal Finisher
USB/SD card slot (optional).
1 x 500-Sheet Paper Bank (optional)
2 x 500-Sheet Paper Bank (optional/shown)
Standard 50-Sheet Automatic Reversing Document Feeder.
8.5″ full-color LCD Control Panel
Read more about all of the excellent features the Ricoh Aficiomp2551 by clicking here. If the brochure does not automatically download, try the following: Right Click on the Link -> Select Save Link or Save Target as (exact verbiage may be different on your browser) -> Select your destination and save.
Quality
Today, organizations run lean and employees are expected to be smart, fast and versatile. The same holds true for Multi Function Printer's. The RICOH MPC2551 gives you all of that—and more. Powerful management tools make it easy to build and maintain highly productive workflows to streamline your document-related processes. Plus, a host of physical and logical security features give you multiple ways to protect your documents and your data. Exceptional performance from features such as internal finishing makes it a perfect system for centralized printing environments—so you can get rid of the hassle and expense of multiple personal printers and produce professional quality documents in-house.
Read more in the brochure here: Aficiompc 2551 Brochure
You can count on us for all of your Ricoh Printer, Copier, and Fax machine needs! Call us today at 1-800-870-9049!