Oki-Data ML8810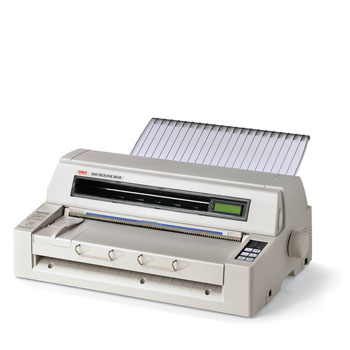 Quality
We've designed the ML8810 Series for durable output. Both models have a printhead impact force that allows even the last page of an 8-part form to read clearly, and a reliability rating of 10,000 hours MTBF. As for printing style, the ML8810 has plenty of that: its Dual 9-pin printhead renders type styles with high quality, clearly producing underlines, subscripts and superscripts, as well as double-high, double-wide letters. Simple operation, flexible connectivity The ML8810 is as uncomplicated as it is powerful… and versatile… and durable. It's simple to operate, with an uncluttered control panel. At the touch of a button you can hange the paper feed from auto to manual, the printing mode from Normal to Quiet, and the output direction from front to back. It also has a backlit LCD display that allows you to quickly assess printer status, print mode, current paper path, and manual printhead gap selection. Its rugged durability, low profile and even lower noise level make the ML8810 a perfect fit for the shop or back office. And, when it comes to connectivity, the ML8810 lets you decide how best to access it: choose from high-speed USB or parallel ports, standard—or get the optional serial or Ethernet interface and share the printer's exceptional performance on your network.
Oki-Data ML8810 Features
Dual 9-pin (18-pin) Impact printhead for near-letter quality output
Fast 720 characters-per-second print speed for increased productivity
Legendary OKI Printing Solutions reliability
Auto Skew Correction – "straightens" hand-fed sheets before feeding them into the printer
Location-Free Paper Loading – enables feed of cut sheets and slips anywhere along the printer table
You can count on American Servco Imaging Systems for all of your Oki-Data Printer, Copier, and Multi-Function needs! Call us today at 1-800-870-9049!