Oki-Data ML1120 Printer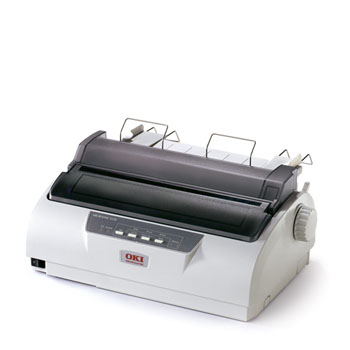 Quality
In today's fast-moving business environment, it's essential that the printers you use help maintain end-user productivity. This means they have to keep up with the demands placed on them—in terms of reliability, print speeds, paper handling and ease of use. The printer that meets those demands better than any other in its class is the compact and affordable MICROLINE 1120 from OKI Printing Solutions. Designed for general business and point-of-sale use, the 9-pin ML1120 easily handles a wide range of applications, such as invoices, receipts, inventory reports, spreadsheets, packing slips and more. It's the printer you can depend on: with a reliability rating of 10,000 hours Mean Time Before Failure3 (MTBF)—which is 67% longer than its closest competitor—the ML1120 keeps on printing, day after day after day.
Oki-Data ML1120 Features
Designed for general business and point-of-sale applications
Crisp, clear printing on 5-part forms
Small footprint saves space—connectivity ports are on the bottom of the printer for a more compact profile
Easy-to-use operator panel for quick selection of printer functions
Zero-tear and auto-park help to eliminate wasted forms
You can count on American Servco Imaging Systems for all of your Oki-Data Printer, Copier, and Multi-Function needs! Call us today at 1-800-870-9049!