Oki-Data C9650 Printer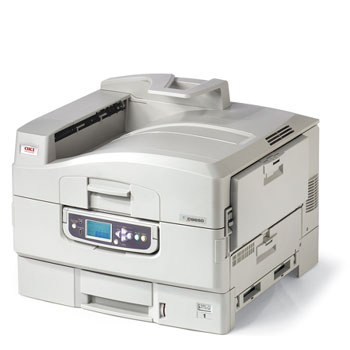 Quality
Digital color printers from OKI Printing Solutions provide high-quality, tabloid-extra (12″ x 18″) color output. With the C9650 Series Digital Color printers, you can improve the quality of your output and increase productivity—even as you lower your expenses. These color printers are the efficient and affordable answer, especially if tabloid-size newsletters and brochures, ad layouts, large illustrations, banners or specialty media are essential parts of your business. Your total in-house printing solution. No more having to run down to the corporate or neighborhood copy center every time you need color documents. From postcard- to banner-size documents up to 12.9″ by 47.24″, you can simply print them in-house.
Oki-Data C9650 Features
Color output at up to 36 ppm, Mono (black & white) at up to 40 ppm
Job Accounting software and Web-based printer management utility standard
Direct PDF Printing: print .pdf files without Adobe© Acrobat© or Adobe Reader
Tabloid-extra/A3 (12″ x 18″); prints on banner sheets up to 12.9″ wide by 47.24″
Legendary Oki-Data reliability
You can count on American Servco Imaging Systems for all of your Oki-Data Printer, Copier, and Multi-Function needs! Call us today at 1-800-870-9049!